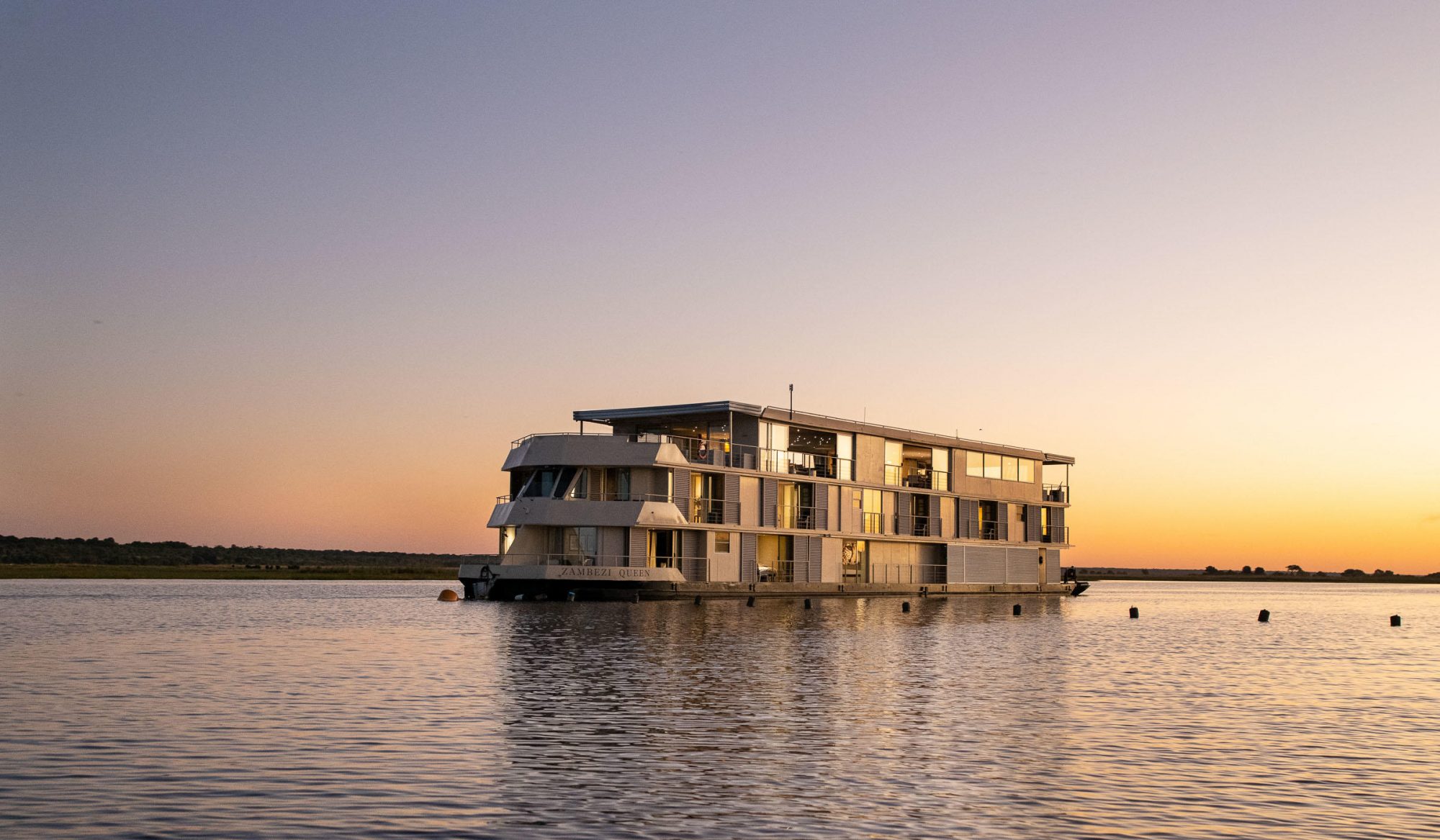 Zambezi Queen - A Cruise Down the Zambezi
Hop aboard! Cruise down the Zambezi river and take in the stunning wildlife. From hippos to elephants to crocodiles, there is a plethora of wildlife to marvel at.
Highlights
View Africa from a different vantage point - the water.
Perfect addition to any land safari adventure.
River Cruise
Wildlife Viewing
Experience Overview
A stay on-board Zambezi Queen is a different kind of safari. It's the kind where you get to decide if you want to be up with the birds, or prefer to laze all morning watching game from the comfort of your bed. Our itinerary is flexible so while we have a range of activities on offer, you can choose just how much you want to pack into your holiday or how relaxed you want to be.

Don't think of your time on Zambezi Queen as a river cruise. Instead, think of it as a floating boutique hotel that departs and returns to the same point, navigating roughly 25km of the Chobe River weather permitting. You'll first arrive at the Zambezi Queen via a short tender boat ride from the Kasane Immigration Office. We offer staggered transfer times on the hour between 13:00 and 16:00, so you can arrive at your own pace and don't have to worry about missing the boat.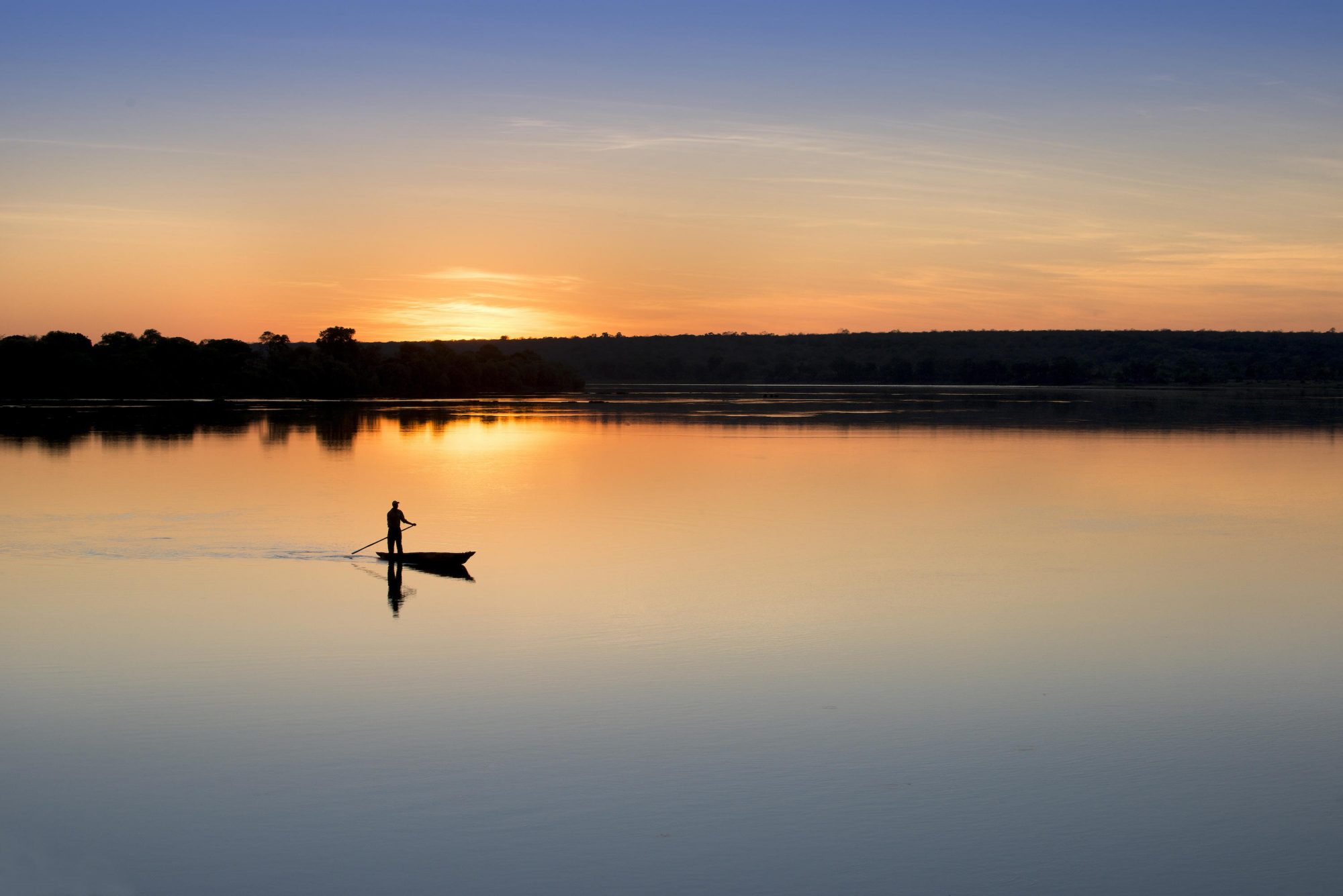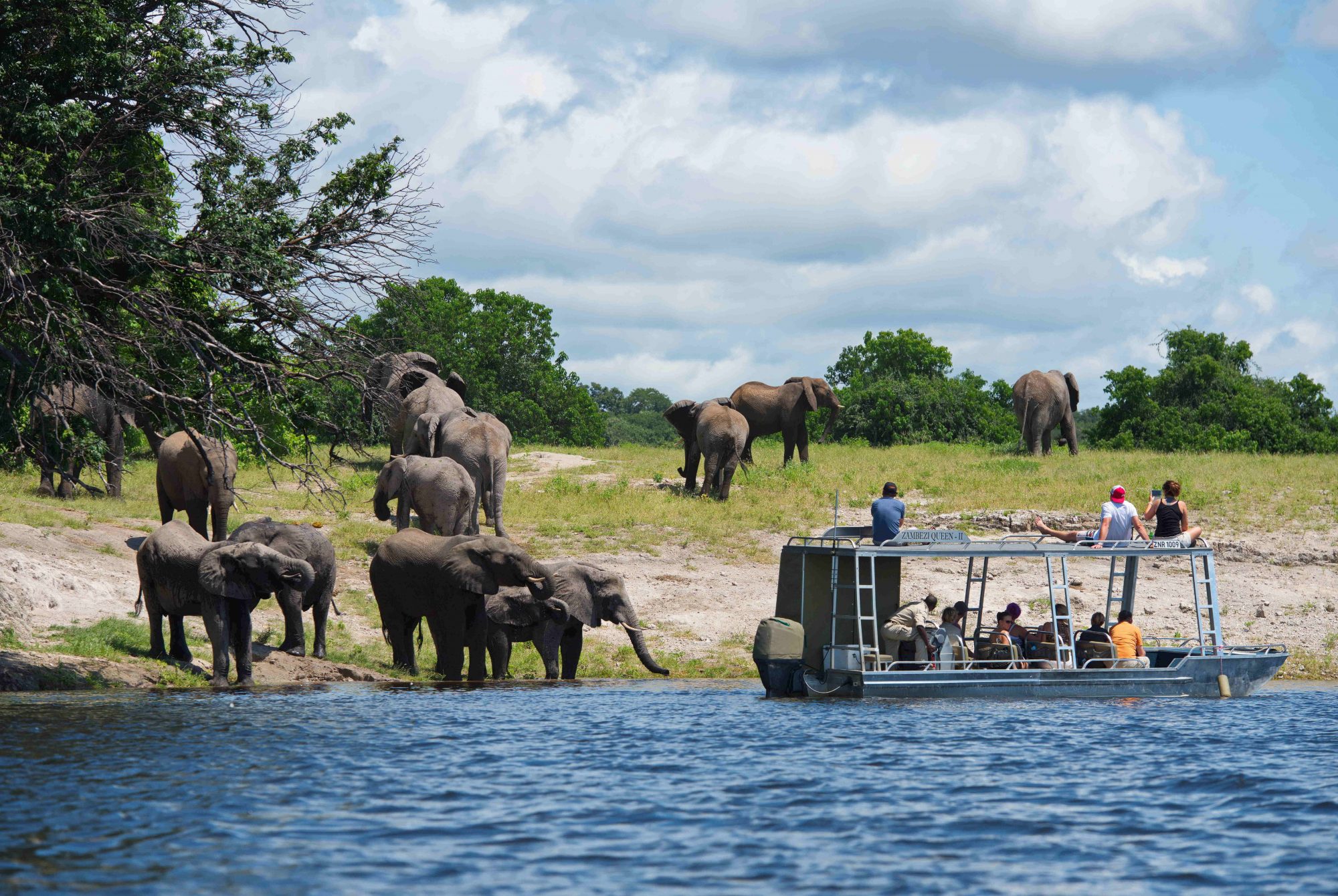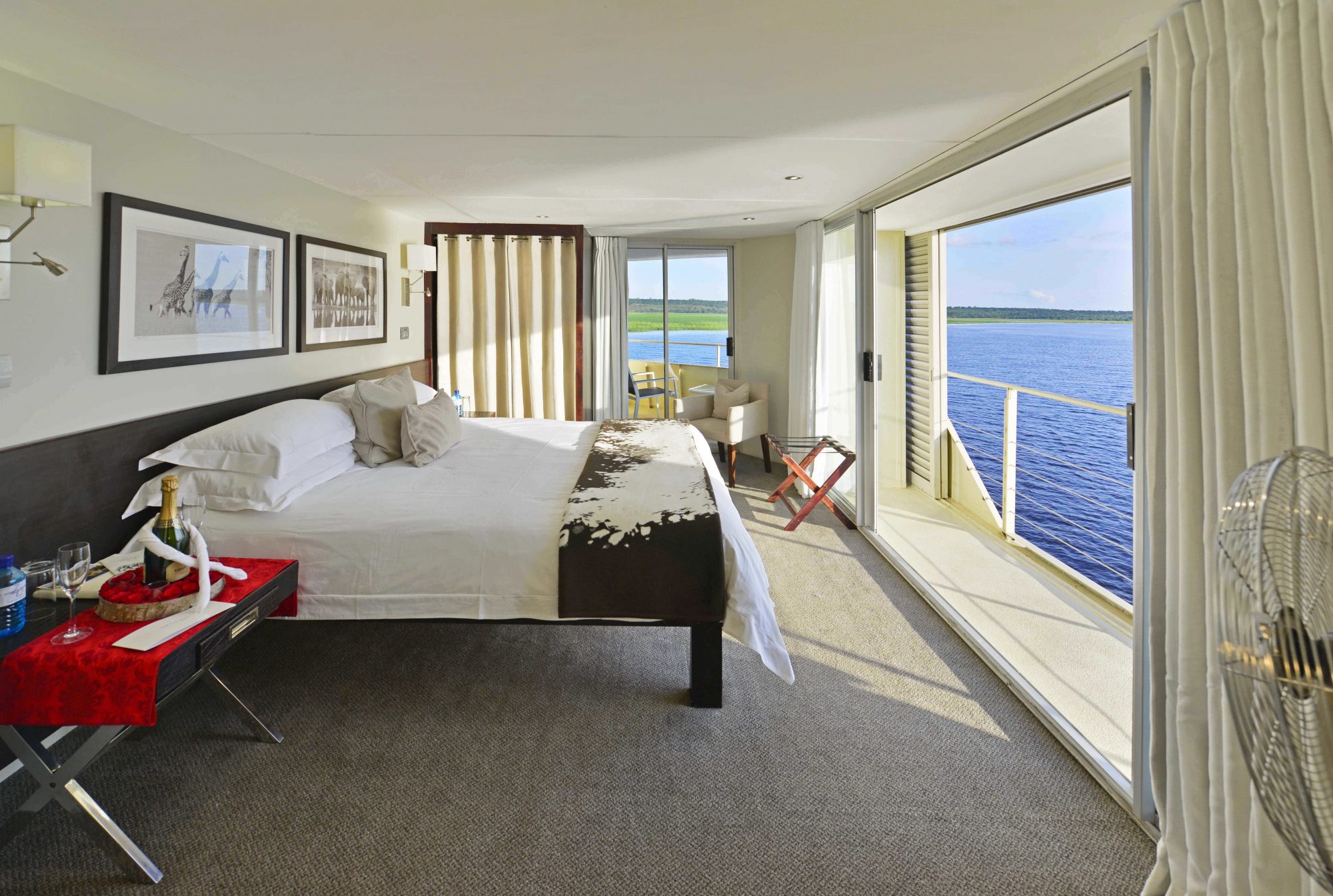 Sample Itinerary
Day 1
Zambezi
If you arrive with the 13:00 and 14:00 transfers, you'll be served lunch, while if you're transferred at 15:00 or 16:00 you'll be served a snack before the sunset cruise by tender boat starts. Once all our guests have boarded in the late afternoon, after a safety breathing and if the weather permits, we'll go in search of some big game by tender boat. This is the perfect time of day to make the most of that golden glow of the African sunset by getting some iconic shots of the animals as they gravitate towards the river before night falls.
Return back to the Zambezi Queen and freshen up before meeting your host on the upper deck with a welcome drink. After taking in the spectacular scenery, you'll make your way to the dining room where you'll be served a delectable three-course dinner along with an excellent choice of paired wines. Finish off with an espresso or nightcap at the bar before retiring to the night sounds of Africa in the distance.
Day 2
Zambezi
We know that some guests like to watch the sunrise as they sip on their coffee while others like to take a more leisurely approach. That's why we let you choose your morning activities, depending on the type of holiday you're searching for. Perhaps you want to enjoy a water-based safari or a village tour on the Namibian side of the river?
Or perhaps you'd prefer a spot of bird watching or fishing instead? You may even decide to simply remain on board as the luxurious Zambezi Queen glides its way along the banks of the Chobe River.
After your morning activities, enjoy lunch on board while using your unique vantage point to spot wild animals and drink in the expansive views. Join our guide in the afternoon for a water-based safari on a tender boat where you can get up close to an array of wildlife, including some of the 120 000 elephants for which the Chobe is well known. After a delicious dinner, settle down for a restful and tranquil night in your luxurious suite.
Day 3
Zambezi
After a hearty breakfast, head off to experience those activities you didn't manage to fit in yesterday: enjoy a water-based river safari by tender boat, go bird watching or go fishing for tiger or bream. Return for lunch on board and some relaxation time before the afternoon activities start. Again, you have the choice between tiger or bream fishing, game viewing by tender boat or bird watching. In the evening, you're in for a treat. Enjoy our traditional African dinner, served with festive African singing and dancing. You can even join in the festivities if you feel like it!
Day 4
Zambezi
Enjoy a morning cruise during breakfast as you do your last bit of animal spotting and take some memorable pictures. Bid our crew a reluctant farewell and then make your way via boat to the Namibian Immigration Office. Once you've had your documents stamped you'll be transferred via boat to the Kasane Immigration Office where you'll have your documents stamped once again before entering Botswana.
Call us
All our experiences are tailored to meet your every need.
+353-1-288-9355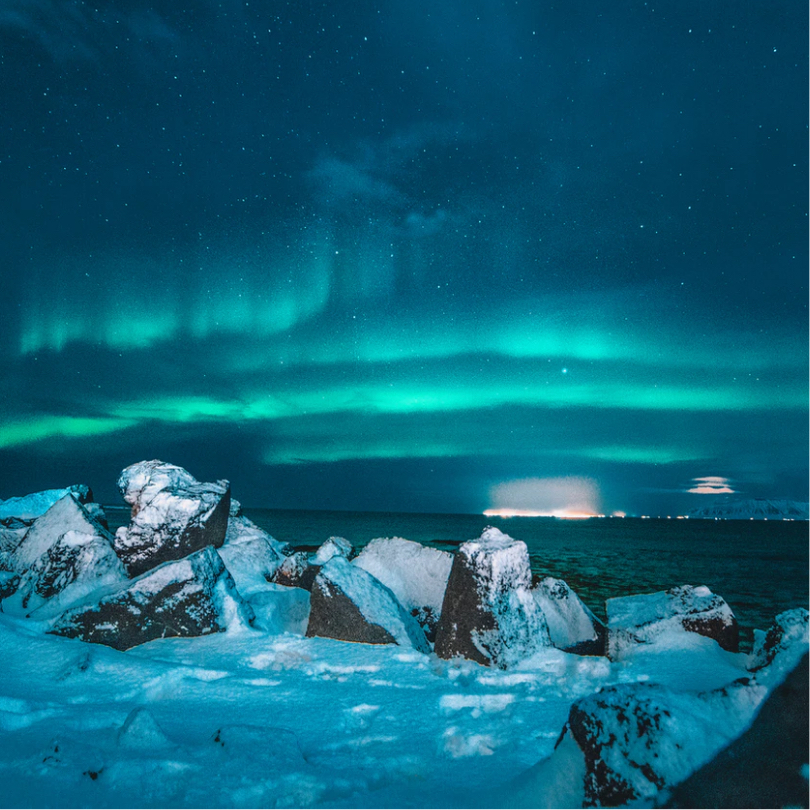 Made to measure
We are Experience
Designers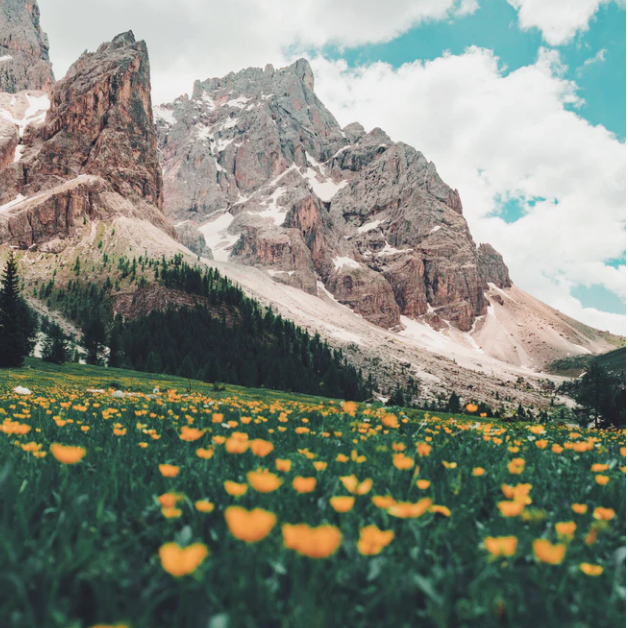 Our team of highly experienced travel designers will guide you from beginning to end as you embark on a tailor-made journey of distinction, enjoying truly exclusive and authentic cultural experiences. We can fulfil your bucket-list dreams.
Speak to us
Get the latest from Adams & Butler: Sign up to our Newsletter