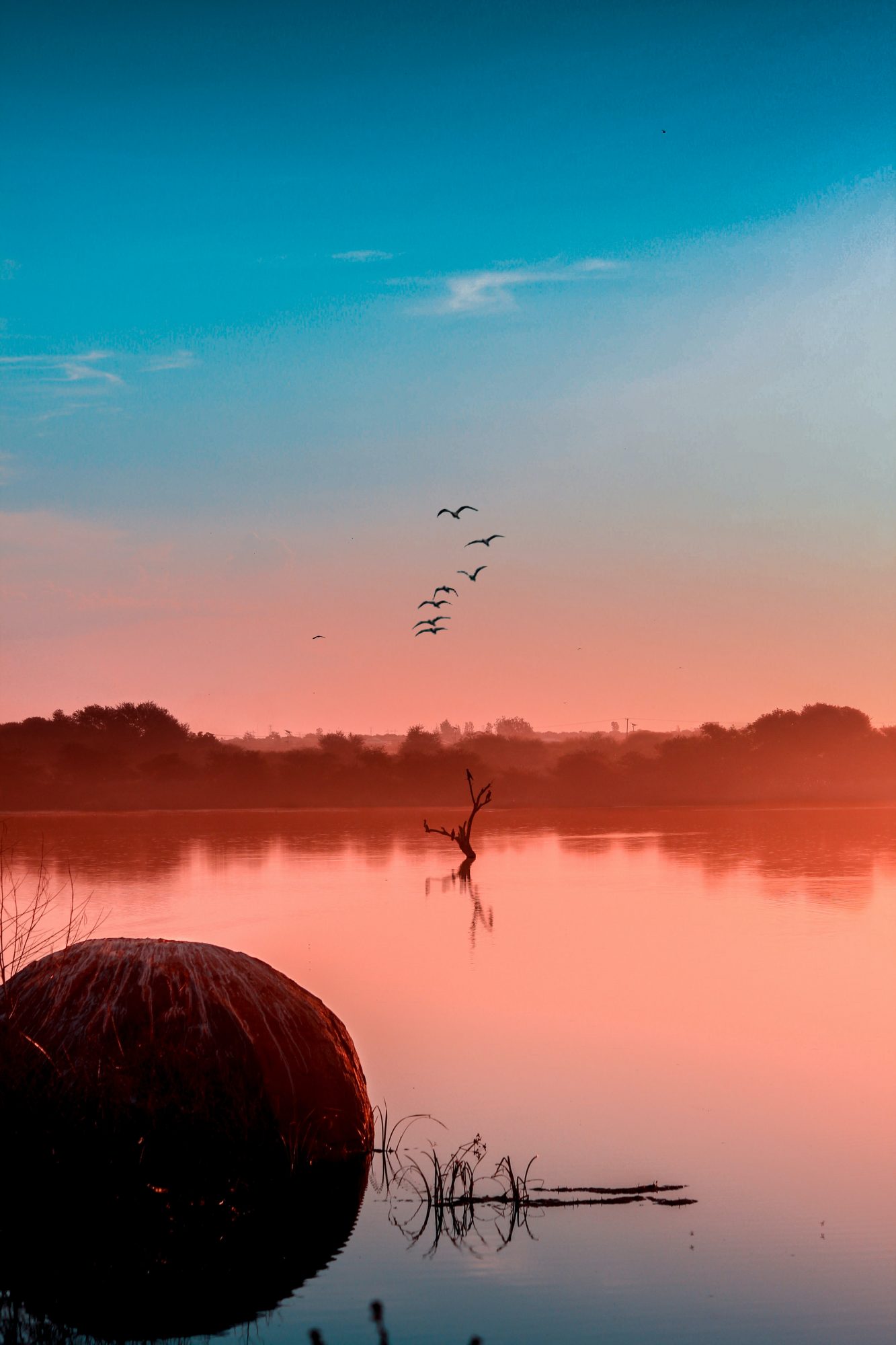 Okavango Adventure
Partake in a true Botswana safari, as you explore the waterways of the Okavango Delta and the bush of the Moremi Game Reserve.
Highlights
Experience the Okavango Delta
Enjoy a ride in a traditional canoe referred to as the mokuro.
Spot a plethora of native bird species.
Partake in a once in a lifetime elephant experience and learn about Botswana's elephant conservation efforts.

Wildlife Viewing & Bird Watching
Experience Overview
Explore Botswana's Okavango Delta on this luxury holiday. You will be at one with nature, navigating through the delta's plethora of waterways and seeking out the Big 5. This tour allows families, couples, and friends alike to truly immerse themselves in the beauty that is Botswana.





Sample Itinerary
Day 1-3
Okavango Delta
Depart Maun for Vumbura Plains North in the Okavango Delta. Situated in the northwestern corner of Botswana, the Okavango Delta is a World Heritage Site as it is the largest inland delta in the world. The magnificent Okavango River sprawls out over the dry sands of the Kalahari Desert forming this flourishing waterlogged oasis featuring countless meandering waterways and crystal clear lagoons studded with water lilies, as well as fertile floodplains and reeded islands inhabited with abundant wildlife. The Okavango Delta stretches over 15000 square kilometres. Visitors can enjoy a number of wonderful activities such as game viewing, fishing, bird watching or taking an authentic guided Mokoro excursion through this wetland paradise in a traditional dugout canoe. Commonly spotted animals include: lion, rhino, leopard, giraffe, hippos, elephants, crocodiles and countless species of bird.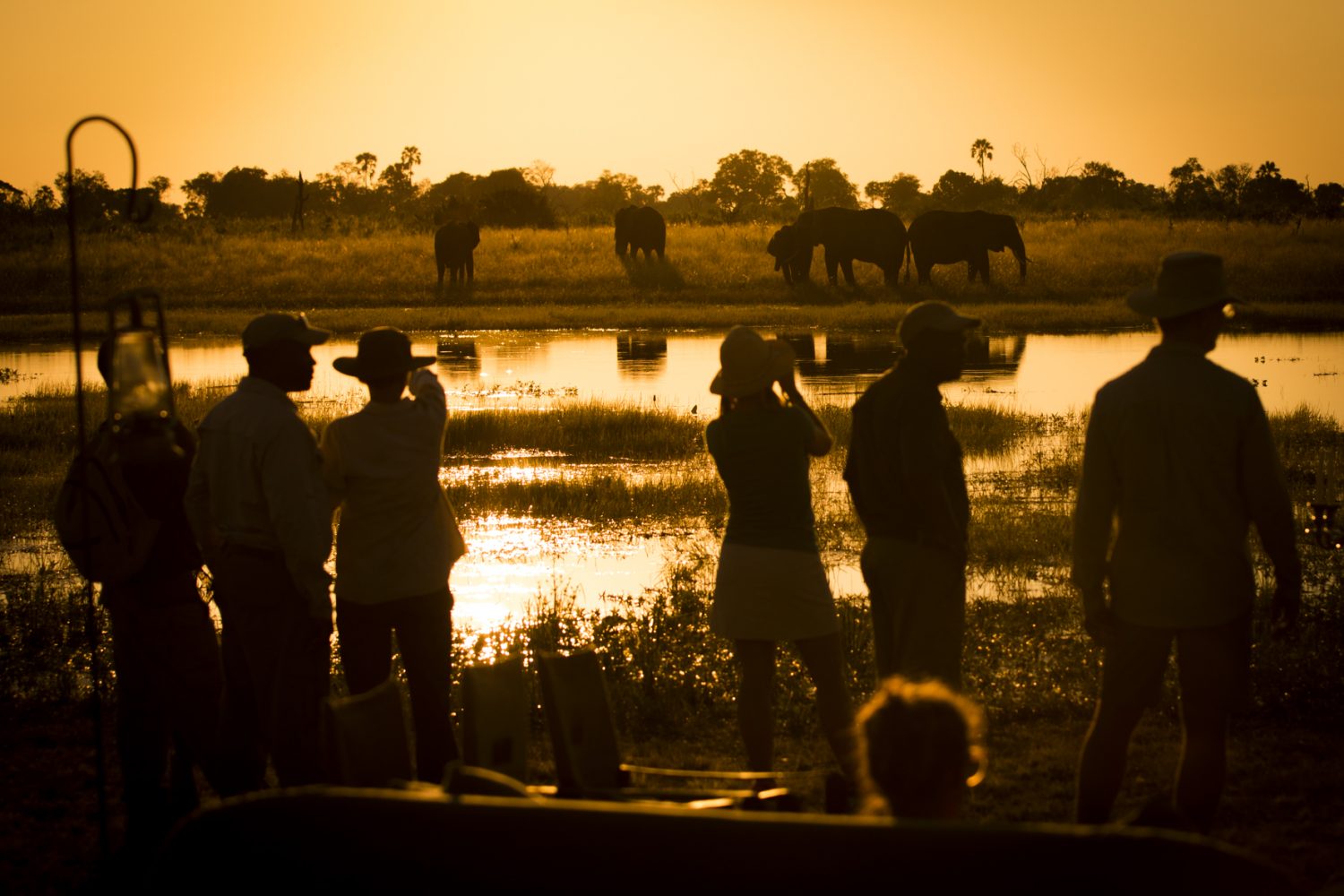 There is no better way of viewing game and exploring the Okavango than by traditional mokoro (dugout canoe). These excursions reveal the fascinating smaller creatures of the Delta including colourful frogs and lively waterbirds. You may also opt to partake in a hot air balloon safari. Take to the skies in style and soar silently over the rich ecosystem of the Okavango Delta in a hot air balloon. Gaze over scenic splendour, watch elephant playing far below and fly eye-to-eye with an eagle. This experience ends with champagne and snacks
Day 4-6
Okavango Delta
Flight from Vumbura Plains North to Abu Camp. The Abu concession offers exceptional Okavango Delta game-viewing in a variety of pristine habitats.Game drives in the enormous private concession traverse wonderfully varied landscapes and give you the best opportunities to view and photograph birds, predators, and herds of elephant and buffalo at close quarters. Early mornings and late afternoons are generally the best times to see wildlife, as animals are generally more active when it's cooler.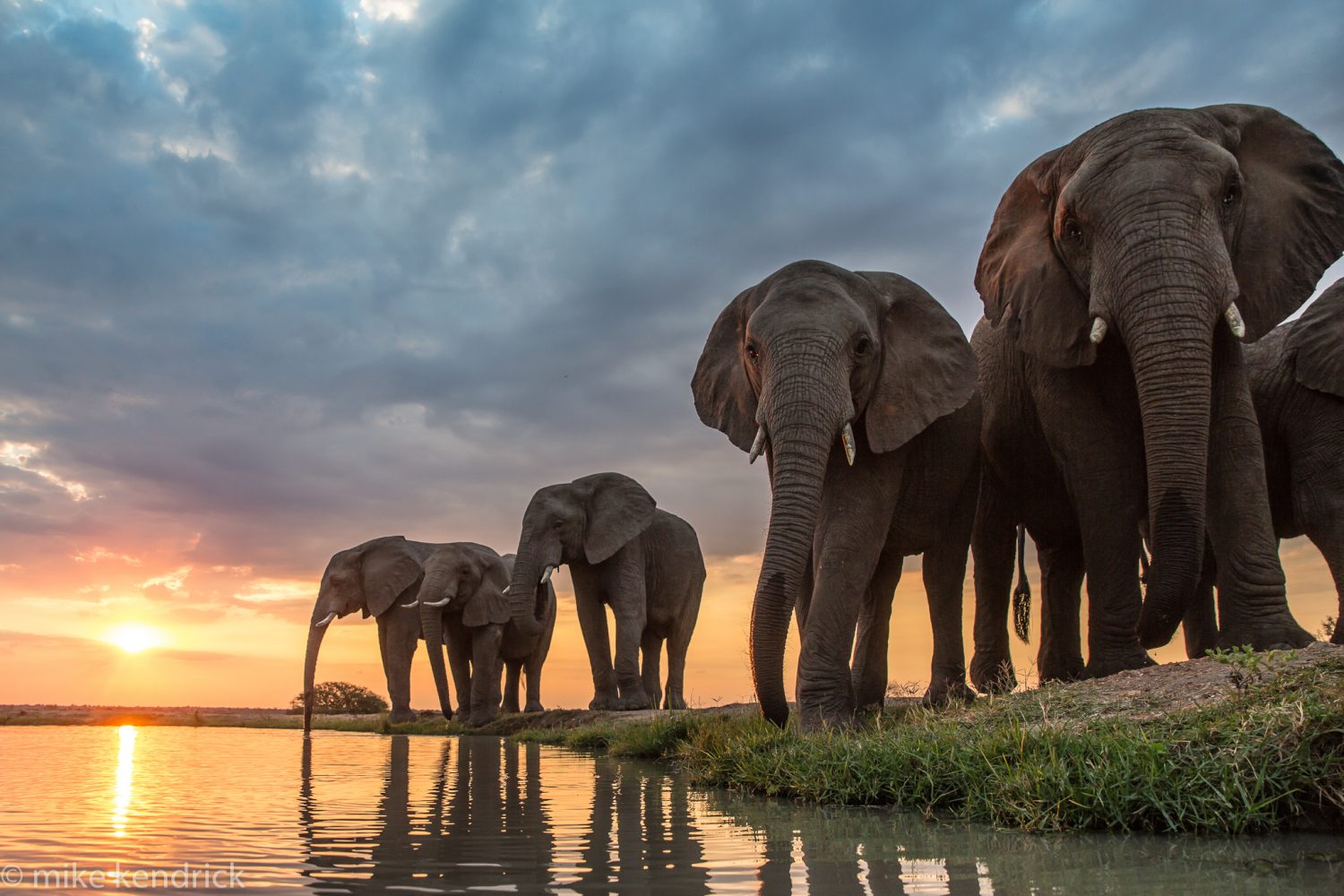 Partake in elephant conservation efforts. The whole premise on which Abu is based is that of elephant conservation. The largest of land mammals is a keystone species and an integral part of Africa's web of life.The great paradox of elephant conservation is that while many African countries are experiencing rapidly declining elephant populations, others – such as Botswana – must cope with burgeoning numbers. Both declining and growing elephant populations present their own challenges. The Abu Herd members are eloquent ambassadors for elephant conservation, and several elephants have been reintroduced to the wild, where they continue to provide valuable data to local researchers and conservationists. Several of these elephants have remained in the Abu concession, and cause much delight all round when their wanderings bring them close to camp. During your stay, you are invited to become a member of the Abu Herd. At designated places in the concession, you will get to know the personalities of each family member, from playful youngsters to precocious teenagers and doting adults. You will soon form a deep and enduring connection to each elephant – a sense of belonging which is both humbling and uplifting
Day 7-9
Moremi Game Reserve
Flight from Abu Camp to Mombo Camp in the Moremi Game Reserve. Situated in the east of the Okavango Delta, Moremi Game Reserve ranks as one of the most beautiful reserves in Africa. It covers more than 4871 square kilometres of pristine wilderness, and the varied terrain includes savannah, winding waterways, and dense forest. This diverse ecosystem supports an incredibly wide spectrum of wildlife, ranging from large herds of buffalo, wildebeest and zebra, to the rare sitatunga and lechwe antelope, lion, cheetah and packs of wild dog in the open grasslands. The birdlife is prolific and includes most of the 550 bird species recorded on Botswana's national bird list. A range of luxury lodges in the reserve offers visitors the perfect base to experience this corner of paradise.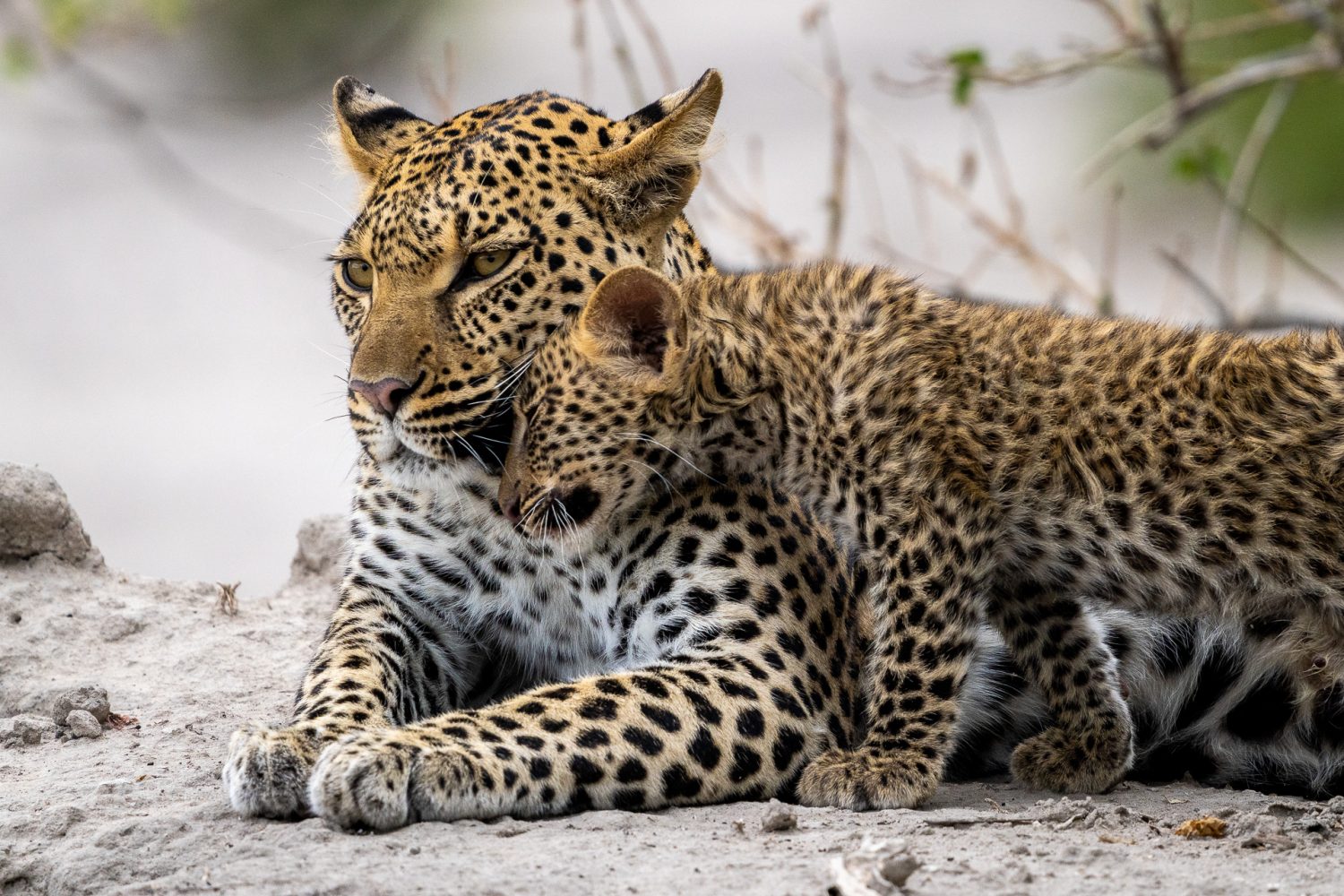 The Mombo Concession, home to Mombo, Mombo Trails, and Little Mombo, sits on the North Eastern tip of Chiefs Island inside the Moremi Game Reserve, the centre of the Okavango Delta. Often referred to as the predator capital of Africa, the Mombo Concession hosts phenomenal concentrations of Africa's famous 'Big Five' in one of the most beautiful parts of Africa. Lilly scattered flood plains and palm fringed islands surround both camps as the crystal clear waters of the Okavango attract a remarkable diversity of African wildlife. The game viewing here is well regarded as some of the finest in Africa. Game surrounds camp at all times of the year with the Mombo concession being one of the very few places in Africa to provide world class game viewing throughout all the seasons. The leopard and lion viewing especially is nothing short of exceptional. Despite Mombo Camp being inside the Moremi Game Reserve where night drives are not allowed, the game viewing is exceptionally good, so good that you don't even need to leave the camp to see something spectacular.
DAY 7-9
Moremi Game Reserve
Call us
All our experiences are tailored to meet your every need.
+353-1-288-9355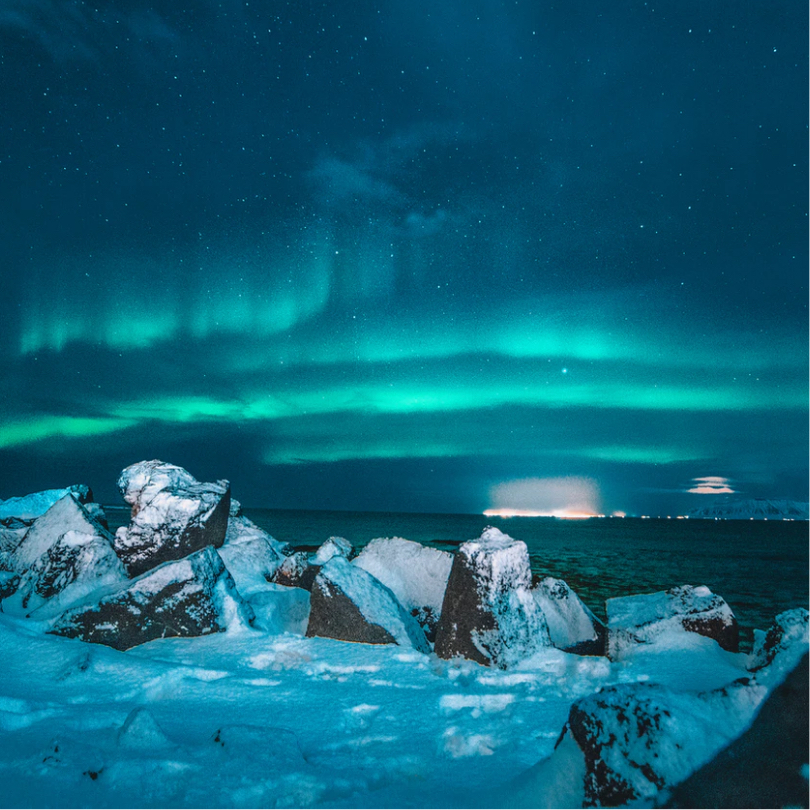 Made to measure
We are Experience
Designers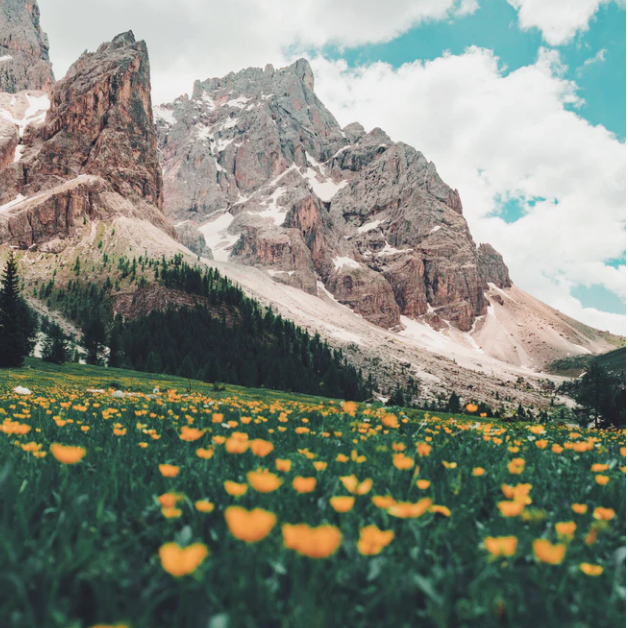 Our team of highly experienced travel designers will guide you from beginning to end as you embark on a tailor-made journey of distinction, enjoying truly exclusive and authentic cultural experiences. We can fulfil your bucket-list dreams.
Speak to us
Get the latest from Adams & Butler: Sign up to our Newsletter